Tchiorny-Terrier - Masculi
Fire Starter Inima Mea (Oskar Yabluneviy Tsvit x Daria Inima Mea)
Breeder: Ghergariu Sabina
Owner Ghergariu Sabina
D.o.b. : 29.03.2014
Show results: Best Puppy of Breed, Best Junior of Breed, CAC, CACIB, BOB, Romanian Junior Champion (under confirmation)
Health test results: HD-A, ED-OO, HUU: N/N (clear), JLPP: normal (clear), Heart: normal ( EKG, Doppler).

Chilly is a powerful male, 76 cm at withers, head 31 cm, wrist 16, chest circumference 93 - at the age of 22 months. He has a wonderful reach and drive, that makes him an excellent mover in the show rings. At home, he is the best companion for his family (of humans and animals).

Pedigree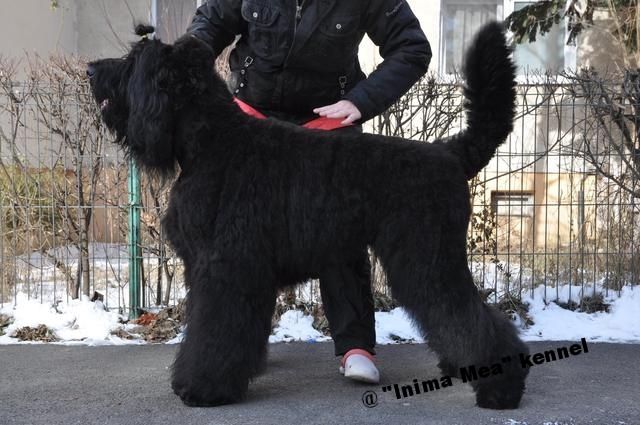 Amur Zachelmianka(Raptor Zachelmianka x Malahovkaya Grafinja)

Breeder: Debska Ewa
Owner Ghergariu Sabina&Alb Marta
D.o.b. : 29.04.2006
Show results: Best Baby in Show, Best Baby of Breed, Best Junior of Breed, BM, BOB

Amur is a large, powerful male, with extremly hind angulations. He has a very good movement. His personality is special, always courious and in the need to be close to his people.
Antey Inima Mea(Malahovskyi Sovjetnik x Horobre Serdce Evrika)

Breeder: Ghergariu Sabina
Owner : Ghergariu Sabina & CO
D.o.b. : 11.01.2007
Show results: Best Baby of Breed, Best Puppy of Breed
Work results: In preparation for BH

Igor is a very powerful male with medium sized bones. His charakter is very strong. He is playful with other dogs, but not with males.0 Allmost like a sheperd dog, Amur is gathering all the hens before night time . He has a friend cat and they live very happy together.